Acoustical Lighting Series
Stunning lighting at the value you need.
Bring Silence to Light
Our Acoustical Lighting Series fixtures combine beautiful radiance with sound-absorbing, enhanced materials. Most of our products are made from 100% polyester containing at least 55% recycled content (PET). PET acoustic series products are non-toxic, non-allergenic, and moisture-resistant with a Class B fire rating.
---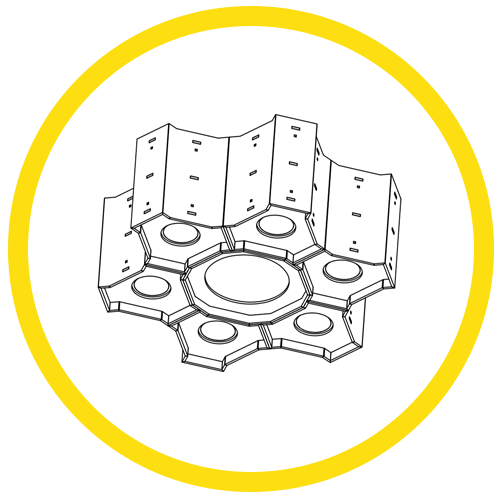 Acoustic Cog Pendant
Elevate your lighting. The Acoustic Cog Pendant Series integrates optimized utility into an industrial design by providing efficient illumination and noise reduction in one unique package. These fixtures allow for two baffle colors to be chosen and can be ordered with a single center light or a center light and 6 outer ring lights. Choose to group several fixtures together or mount them independently as single units. The possibilities—and applications—are endless.
Features & Benefits
Dimensions: 40"Wx43"Lx16"H
9mm PET acoustic material, 55% from recycled materials
Pendant mounted
Optional second color selection for a contrasting diffuser
Uses 7" and 15" Dia dimmable LED discs
2 light options, 1 center light or 1 center and 6 outer lights
---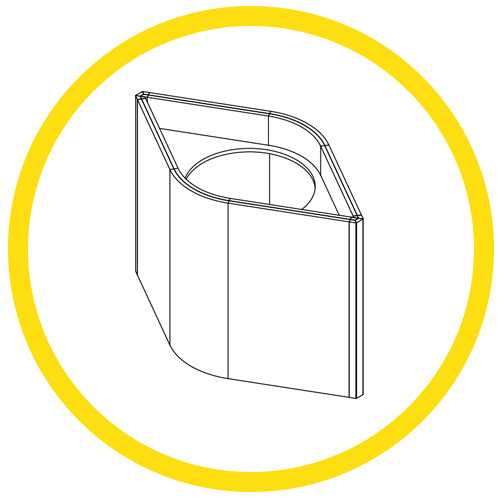 Teardrop Acoustic Drum
The Teardrop Acoustic Drum fixture combines architectural style with a contemporary flair to create beautiful and elegant lighting. These fixtures have disk-shaped LED lights built in that are scaled to each size and can be clustered together to construct unique shapes and patterns or mounted independently. Order a Teardrop Acoustic Drum fixture to dampen noise and visually enhance your space.
Features & Benefits
3 sizes available, small, medium, and large

Small: 11"Wx19"Lx18"H
Medium: 14"Wx27"Lx18"H
Large: 18"Wx58"Lx24"H

9mm PET acoustic material, 55% from recycled materials
Optional second color selection for a contrasting interior
Pendant mounted
Uses 7", 11", and 15" dia LED discs (dependent on size chosen)
---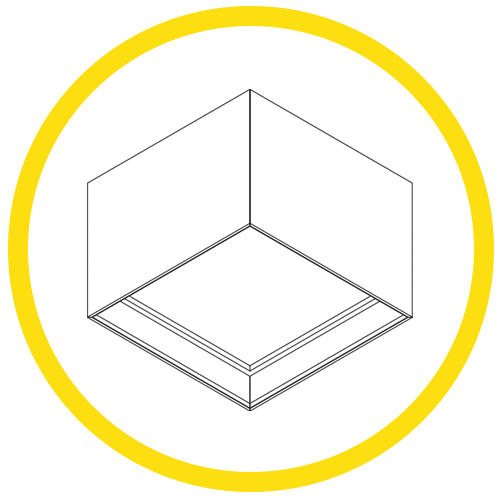 Square Acoustic Box Drum
Invigorate your space with a Square Acoustic Box Drum fixture that perfectly fuses high-performance LED lighting and superior quality acoustic materials. The simple design of the series creates a bold definition that adds an aura of class and style to any space. Choose from over thirty colors of acoustic material to personalize each fixture in your space. These fixtures work well in lobbies, offices, and other high-traffic areas.
Features & Benefits
2 sizes available

Medium: 25"Lx25"Wx12"H
Large: 50"Lx50"Wx12"H

30+ acoustic material colors available
9mm PET acoustic material, 55% from recycled materials
Uses high performance LED flat panels (2X2 or 4X4)
Pendant mount
---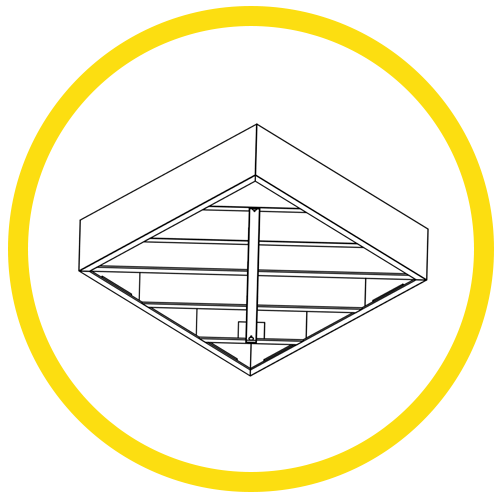 Splice Acoustic Box
The Splice Acoustic Box blends elegance and style into one interesting fixture and is an acoustic ceiling fixture that offers optional lighting and excellent noise reduction. Sound-absorbing acoustic material adds dimension and functionality to open-space areas and allows you to take control of two human senses—sound and light. The grand scale of this acoustic box makes it the perfect solution for open-office spaces, lobbies, restaurants, or anywhere where sound reduction and integrated design is desired.
Features & Benefits
Dimensions: 47"Wx47"Lx12H
9mm PET acoustic material, 55% from recycled materials
30+ acoustic material colors available
Pendant mount
Utilizes our popular 4' L23 linear
---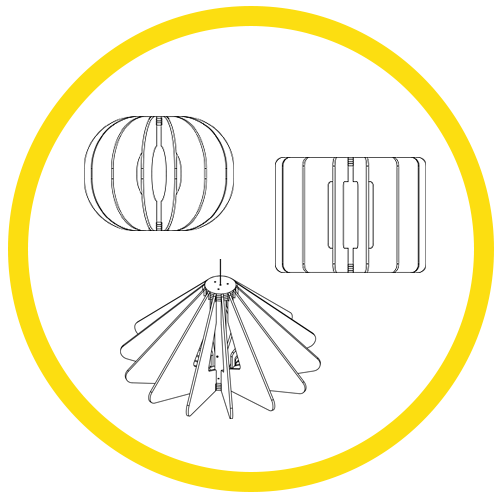 Mobile Series
The Mobile Series fixtures utilize modern designs and simplistic LED luminaires to produce decadent beauty and efficient illumination. Available in triangular, circular, and rectangular design styles, the central luminaire is pendant mounted with aircraft cables and provides a soft, even glow. These fixtures provide an excellent opportunity to elevate the lighting and style of your space. Mobile Series fixtures are great for conference rooms, lobbies, and other high-traffic areas.
Features & Benefits
3 silhouettes: circle, triangle, and rectangle
Dimensions:

Circle: 34" dia
Triangle: 43" dia
Rectangle: 34" dia

12mm PET acoustic material, 55% from recycled materials
Available in 5 standard colors
Uses a dimmable LED pendant with acrylic diffuser
Pendant kit available in brushed nickel or black finishes
---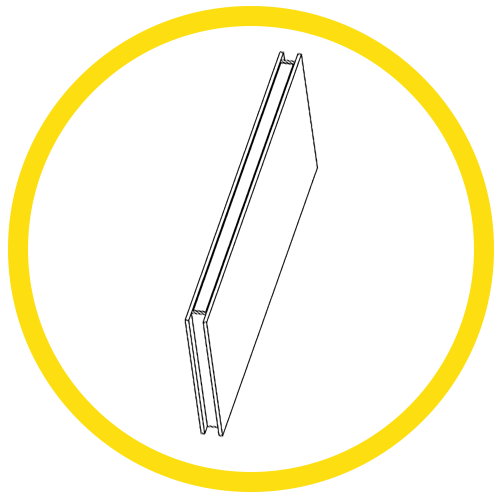 Linear Acoustic Baffle
Introducing the Linear Acoustic Baffle Series which integrates lighting and an acoustic solution into one customizable product. The sound-absorbing acoustic material helps to create a beautiful highly functional baffled ceiling installation. Combine with unlit baffles or use as a stand-alone acoustic fixture. Direct and indirect lighting options, as well as multiple colors, are available for a dynamic look.
Features & Benefits
Select from 4 standard lengths: 24", 48", 72", and 96"
3 standard heights: 12", 16", 24"
Continuous run configurations available
Beveled, wood, or metal ends are offered
Constructed from a lightweight steel frame
Direct and indirect lighting options
---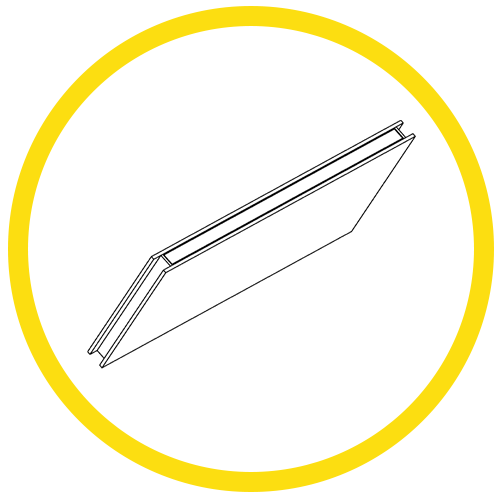 Adjustable Acoustic Baffle
The Adjustable Acoustic Baffle Series offers a twist on the standard Linear Acoustic Baffle to create a gradual transition between walls and ceilings. This new pivoted design is hung at an angle either at the corners where the walls and ceiling meet or throughout an exposed ceiling plan to produce a larger surface area of direct sound-absorbing material. Experience the evolution by configuring your perfect acoustic lighting setup. And love your space again.
Features & Benefits
Select from 4 standard lengths: 24", 48", 72", and 96"
Adjustable hanging kit to customize angle
Provides indirect lighting using a linear LED
9mm PET acoustic material, 55% from recycled materials
Constructed from a lightweight steel frame
Available in 30+ colors